today
faded strands of gray
weep glow and color
promising shade
tomorrow
*****************************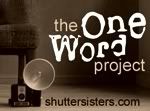 This month, I am participating in a contest/project on
Shutter Sisters
called
the one word project
. My word for the month is
promise
, so many of my Project 365 images this month may follow that theme. You can see more from others who are participating
here
.
*****************************
Note on my Project 365 photos: I have finally decided how I'm going to do this thing: I'm going to post my photo in the evening after I've had all day to shoot, instead of trying to cram my photo time into the morning in front of everything else. I have tried doing morning shooting and getting the new photo up by noon, but that is proving way too stressful. I've tried all-day shooting and putting the photo up the next day, but that just doesn't seem accurate. So here's my new attempt at making this work with my schedule, and getting the photos up on the right day!
Of course, this does mean that I shot twice today. You know, for this shot, I'm not really that sorry.